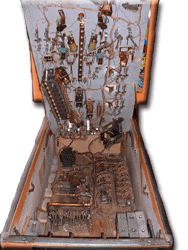 My specialties include:
* Electromechanical pinball machines - all makes
Mechanical slot machines and trade stimulators - all makes
Bally electromechanical slot machines
Bally, Evans & Keeney Consoles & Horse Races
1st generation Bally and Stern Digital Pinballs - 1976-1984
Shuffle and Ball Bowling machines - all makes
Pitch and Bat games - Williams, Midway, Chicago Coin
Electromechanical Arcade games & Shooting Galleries
I also work on Scales, Love testers, Gumball, Candy, and Card vending machines.
Service Rates:
Call charge $80 and up (varies with travel time from Rockville, MD)
Labor $60.00/hr - 1 hour minimum
Parts additional
Mechanical Reconditioning $400.00 and up
Complete Restorations $500.00 and up. Includes extensive testing and are done in my shop.
Pickup & delivery is available for an additional fee.
For more information or to arrange a service call contact Eric at 301-871-4575 or E-Mail BigE@pinballservice.com
* Electromechanical pinballs are those in which the scores are registered on reels - usually white with black numbers. Digital pinballs have Red or Blue L.E.D. displays for scores.